Hace poco me leí The Entrepreneurial State, de Mariana Mazzucato, donde se plantea que el Estado tiene y debe tener un papel preponderante en el sector científico-tecnológico, más allá de resolver fallos de mercado y externalidades.
Como recordatorio de que los Estados hacen cosas en este sector está bien. Pero en general, creo que el libro está mal argumentado y documentado (En el futuro cercano espero tener ocasión de señalar exactamente esto). Una cosa es defender la tesis modesta de que en la cadena causal que nos ha traído muchas de las innovaciones modernas esté el Estado. Otra bien diferente es que el Estado haya sido necesario para ello. Mazzucato documenta mucho la primera tesis, pero nada la segunda.
Mazzucato tiene una tendencia a incurrir en lo que yo llamo Mazzucatismos. Un Mazzucatismo tiene a las siguientes características:
1. Se hace una afirmación bombástica (e.g. La innovación es imposible sin el Estado) 2. O no se cita, o se cita una fuente que no dice eso 3. Esa fuente contiene datos que contradicen la tesis de Mazzucato
Haciendo review de su bibliografía, encuentro la siguiente afirmación
In fact in many cases the most expensive (e.g. capital-intensive) investments in new opportunities such as medicine and renewable energy (investments with high market and technological risk) are being made by the public sector (GWEC 2012).  [Mazzucato] Fried, L., S. Shukla and S. Sawyer, eds. 2012. Global Wind Report: Annual Market Update 2011. Global Wind Energy Council (March).
Donde dicen
** key factor adding to the growth of the wind energy sector has been the support from public sector investment over the past three years. Several governments provided considerable support for the renewable energy sector as part of their stimulus packages** Global clean energy investment reached a new record of $260 billion (See figure above) in 2011. This characterizes a key milestone for a sector that enjoyed an average compound annual growth rate of 37% between 2004 and 2008, but then saw growth slowdown in the face of the widespread recession in 2009. The majority of investment in 2011 was the asset financing of utility-scale projects such as wind farms, solar projects and biofuel plants Major beneficiaries from this increased lending by development banks are the mature clean energy technologies like wind, solar and biomass. Wind has been the single largest beneficiary of these investments to date, receiving $7.2 billion in 2010 alone (BNEF, 2011). In 2011, wind projects made up more than 28% of the $260 billion investment in clean energy projects. A significant portion of this investment was from public sector institutions.
Hablamos de un "key factor" y una "significant portion". La manera en la que se presentan los datos en el libro, y en la que ella los presenta en sus presentaciones (la gráfica de la página 28) de http://siteresources.worldbank.org/…/0_Mariana_Mazzucato_-_…  da a pensar que básicamente la gran parte de los que están invirtiendo en renovables son los Estados, a través de Bancos de Desarrollo.
En Who will lead the green revolution?, dice
The most visible patient capital made available to renewable technology manufacturers and developers has been delivered through national and multilateral development banks. [...] Indeed, the Climate Policy Initiative reports that in 2012 institutional investors, including insurance companies, pension funds, foundations and endowments, contributed only US$0.4bn to climate change mitigation and adaptation projects (a minimal figure considering the US$70trn in assets that they manage). Meanwhile, venture capital, private equity and infrastructure funds invested only US$1.bn.
Un vistazo a las Figuras 2 y 3 y la Tabla 1 del informe que ella cita corrobora que ciertamente esos agentes han invertido esas cantidades, y que los bancos de desarrollo han invertido bastante. Pero ignora la gran mayoría de las fuentes de financiación privadas sin motivo aparente. ¿Qué sentido tiene contar la inversión privada descontando a empresas, hogares e instituciones de financiación comercial?
Public investments of USD 135 billion filled significant funding gaps and provided incentives for private investments, which again provided the majority – with USD 224 billion.
Pero vayámonos a la fuente del GWEC para esas afirmaciones del libro, y de la presentación, el informe Bloomberg New Energy Finance (BNEF 2013)
Y ahí, figura 3, podemos sumar al sector privado 4.1 de Public Market, 1.4 de Private Equity, 2.3 de Venture Capital y 80 de Small Distributed Capacity, más (148.5-80) de Asset Finance más 4.8 de R&D
Por parte de los Estados, tenemos 4.8 de R&D y 80 de bancos de desarrollo. Estos 80 millones estaban incluidos en Asset Finance y por eso están restados en el párrafo anterior. ("Development banks provided $79.1 billion of finance in 2012 ")
Por tanto, las fuentes de Mazzucato nos permiten concluir que en energías renovables tenemos:
Inversión privada 161.1 bn$
Inversión pública 84.8 bn$
Que es ciertamente una cifra significativa, pero muy alejada del dato que se da en sus presentaciones. Estamos diciendo que los Estados aportan el 34% de la inversión en renovables.
En un informe más reciente que añade más bancos de desarrollo al total, la inversión de los Bancos de Desarrollo aumenta hasta $109bn en 2012, siendo la inversión total de $268.7bn, elevando la contribución de los bancos de desarrollo hasta el 40%.
Según el otro informe que cita Mazzucato (Climate Policy Initiative report), la inversión total fue de $359bn en 2013, de los cuales 244 fueron privados, lo que le deja un 32% de la inversión a los Estados
Lo que ignoro es por qué Mazzucato hace esto. Quizá haya un motivo técnico para no contar las fuentes de financiación privada que estoy contando, o quizás tenga algún informe diferente, o haya alguna sección que yo haya pasado por alto. Michael Liebreich, uno de los autores del BNEF también puso en duda en su momento los gráficos de Mazzucato.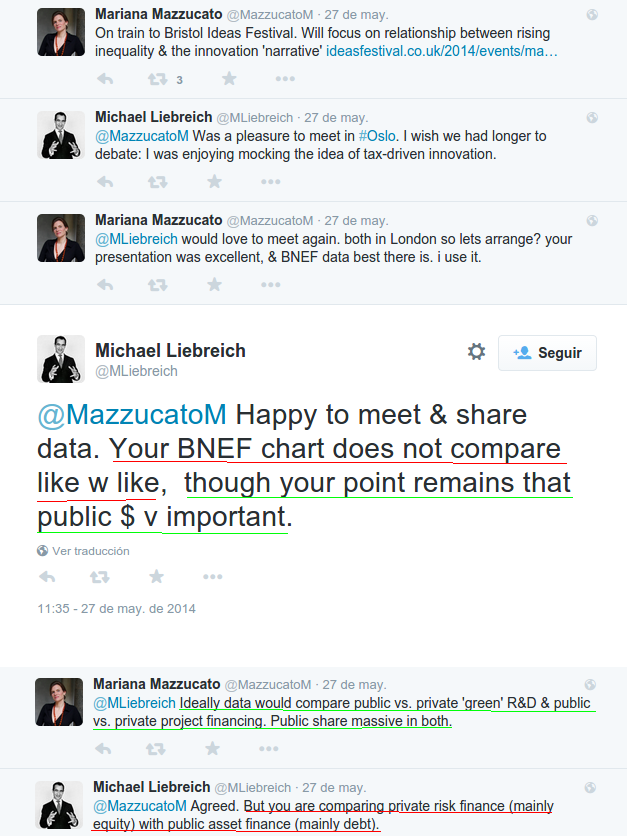 De modo que a falta de más información, concluyo que la economista o bien tiene problemas graves en lo que a lectura y argumentación se refiere o bien busca abiertamente confundir para avanzar una agenda política. A fin de cuentas el libro dice cerca del principio que
This work is based on a revised and significant expansion of a report I wrote for DEMOS, a UK-based think tank, on The Entrepreneurial State. Unlike a more traditional academic piece of writing – that can take years from start to finish – I wrote the DEMOS work in a style similar to the political pamphlets of the 1800s: quickly, and out of a sense of urgency. I wanted to convince the UK government to change strategy: to not cut State programmes in the name of making the economy 'more competitive' and more 'entrepreneurial', but to reimagine what the State canand must do to ensure a sustainable post-crisis recovery.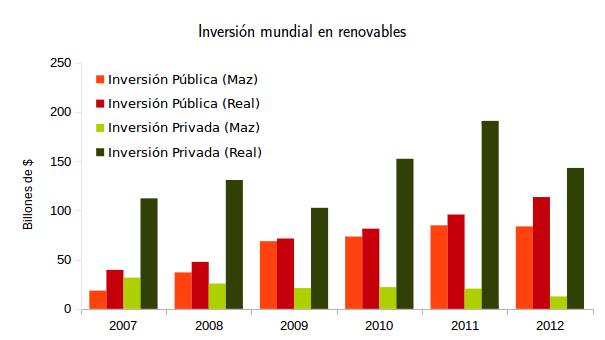 Fuente: BNEF 2013, Mariana Mazzucato, Informe de BNEF sobre bancos de desarrollo (2013)
Comments from WordPress
Citation
In academic work, please cite this essay as:
Ricón, José Luis, "The Entrepreneurial State: el caso de las renovables", Nintil (2015-02-10), available at https://nintil.com/mazzucatismos-el-caso-de-las-renovables/.
Backlinks