It is, and it is not sexist.
So recently a software engineer at Google published this, where he says a bunch of things about why it is wrong to assume that there are less women in Google because of discrimination. The author doesn't deny that sexism exist, but says that one doesn't need sexism to explain the % of women at google.  The article initially had links to evidence to (presumably) back what it says. These were removed by Gizmodo when they published it.
EDIT: LINK TO THE ORIGINAL TEXT
The manifesto, I repeat, is not sexist. If one defines sexism as saying that women ought not do X because they are women, then there is nothing in the article about that. But some people consciously or subconsciously equate finding differences between groups to sexism. Some examples of people making the mistake. The quote below was classified as an example of sexism.
eg "women relatively prefer jobs in social or artistic areas. More men may like coding because it requires systemizing and even within SWEs"
Is this sexism?
Also, think of the following: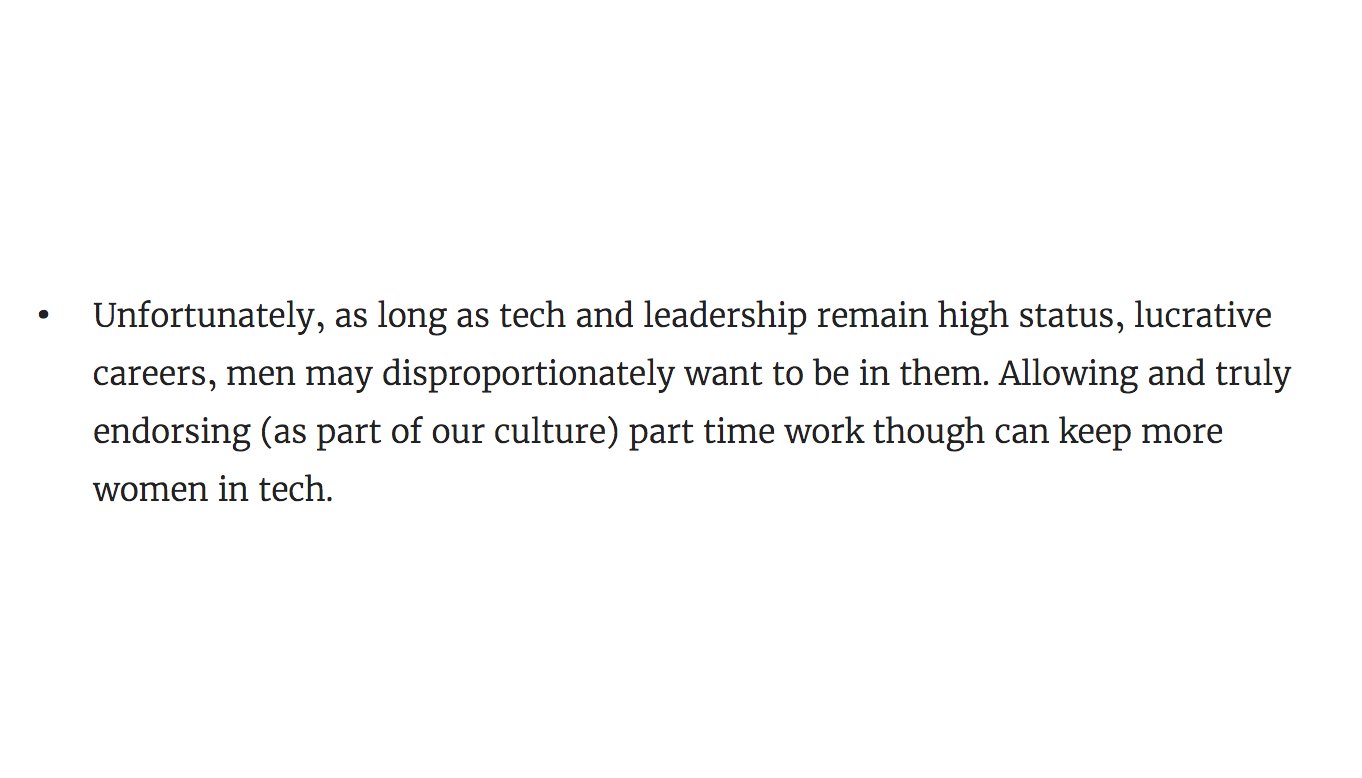 That says "Men prefer high status and lucrative careers more than women. Thus if it remains like that, there will be more men. If one makes some policy changes (part time work), then the proportion of woman will increase.
Well, this was read as "Women (on average) shouldn't be doing tech or be in leadership roles, although we can allow them to do part-time jobs in tech, to keep'em."
Really? This is not a case of a difference in opinion due to different context, see the article itself. It is really clear.
In this post I focus on a single claim: Are there psychologically meaningful differences between men and women that may be driving the gender distribution across fields? This is the key claim of the manifesto. Once this is accepted, the rest may be easier to accept. A similar analysis to mine, for philosophy, can be found here.
EDIT: Read also Scott Alexander's post about a critique of the memo, here.
How there can be less women in science
If men and women's brains are equal, then there wouldn't seem to be any reason to expect differences except because of cultural factors (Among them, discrimination). But several differences have been proposed:
Men's intelligence distribution has a higher variance. Thus at the higher end of the distribution (from where you get your STEM graduates) you would expect to find more men. Same thing for low paid jobs.
Men's are willing to work more/are more competitive than women. This would lead to an overrepresentation of men in highly competitive fields, or fields that demand a great amount of work.
For the same level of overall intelligence, women have a higher verbal IQ. This means that women would have more paths open for them compared to men, and so although they could do as well as men in technical careers, they would have it more easy to choose other non-STEM careers.
Finally, preferences between men and women regarding choice of occupation may be different, directly driving the distribution of genders per career.
These traits, it is said, have an evolutionary explanation, and thus if it is right that the explanations above are correct, one would predict the same across countries. There will be more men in technical fields, and there will be more women in the humanities and healthcare sectors.
On the other hand, one can postulate discrimination of various sorts:
Women are prohibited from attending university. This would reduce the amount of female graduates.
Women are culturally disencouraged from attending university, or certain degrees. Same as above.
A toxic workplace/college culture (techbros) keep women away. This again reduces the presence of women in these fields.
These hypothesis can also be used to make predictions: the less sexism there is, the more equal the distributions will be.
One more key piece of evidence must be discussed, this:
This seems like strong evidence against the evolutionary model, as it it a substantial variation in the percentage of women majoring in CS in the US. This cannot be due to any adaptation, thus the cause of that must be cultural. The chart comes from this article, that argues that
Modern computer science is dominated by men. But it hasn't always been this way.

A lot of computing pioneers — the people who programmed the first digital computers — were women. And for decades, the number of women studying computer science was growing faster than the number of men. But in 1984, something changed. The percentage of women in computer science flattened, and then plunged, even as the share of women in other technical and professional fields kept rising.
Because
 The share of women in computer science started falling at roughly the same moment when personal computers started showing up in U.S. homes in significant numbers.

These early personal computers weren't much more than toys. You could play pong or simple shooting games, maybe do some word processing. And these toys were marketed almost entirely to men and boys.

This idea that computers are for boys became a narrative. It became the story we told ourselves about the computing revolution. It helped define who geeks were, and it created techie culture.

Movies like Weird Science, Revenge of the Nerds and War Games all came out in the '80s. And the plot summaries are almost interchangeable: awkward geek boy genius uses tech savvy to triumph over adversity and win the girl.

In the 1990s, researcher Jane Margolis interviewed hundreds of computer science students at Carnegie Mellon University, which had one of the top programs in the country. She found that families were much more likely to buy computers for boys than for girls — even when their girls were really interested in computers.

This was a big deal when those kids got to college. As personal computers became more common, computer science professors increasingly assumed that their students had grown up playing with computers at home.
Here's more evidence against the evolutionary model that was sent to me. The article says:
No differences between boys and girls in math performance (Shibley Hyde (1990))
No major differences in verbal ability (Hyde (1988))
Small or no differences in cognition, communication style, social and personality variables, motor behaviors and moral reasoning. (Hyde, 2005)
Gender differences in math and science have a genetic basis and emerge in early childhood. But on the whole, men and women possess equal aptitude for math and science. (Spelke, 2005)
A consensus statement was published in 2007 was published by Hyde, Diane Halpern and other about the male/female disparity on science and math careers. They say, that women tend to score slighly higher than men on verbal abilities, and men have a slight edge on visuospatial skills. But early experience, education policies and culture also affect success in math and science, they say.
No gender differences in maths in children from grades 2 to 11 (Hyde, 2008)
At the highest levels of abilities, men score higher than women in mathematics (the distribution is more heavy tailed for men), but this gap has been decreasing. The gap is found to be smaller in countries with greater gender equality (as the sexism hypothesis predicts). (Hyde, 2008)
This seems, intuitively, like a good case for the sexism model. But note that these studies do not address for example different preferences (for careers, or amount of work), and these studies do acknowledge that women indeed score higher in verbal skills and men in visuospatial skills.
Imagine for example that men and women are cognitively equal, and they only differ in preferences. This would still drive a different distribution if the differences in preferences are big enough.
But here's the case for the evolutionary model:
Differences in preferences (N=500,000) are found to be gigantic (Su et al. 2009). Women prefer working with people, men prefer working with things. This effects is also present in monkeys.
There are 70% more dual talented (in maths and verbal skills) girls than boys, boys are twice as likely as girls to have strong math skills, but not strong verbal skills. People who only had only strong math skills as students were more likely to be working in STEM. People with both strong math and verbal skills as students were less likely to be working in STEM. Thus

"Results revealed that mathematically capable individuals who also had high verbal skills were less likely to pursue STEM careers than were individuals who had high math skills but moderate verbal skills. One notable finding was that the group with high math and high verbal ability included more females than males…

Our study provides evidence that it is not lack of ability that causes females to pursue non-STEM careers, but rather the greater likelihood that females with high math ability also have high verbal ability and thus can consider a wider range of occupations than their male peers with high math ability, who are more likely to have moderate verbal ability." (Wang, Eccles, Kenny, 2013)
And also here:
Boys and girls are equally good at math on average. But the variance of the distribution of male skills is higher. (Lindberg et. al  2010)
At the highest levels of mental ability, there tends to be two men per each woman (Johnson et al. 2008, Deary 2007)
Male-female differences in math skills are not due to stereotypes (Flore & Wicherts, 2015)
Women want to work less and have more flexibility (Lubinski et al. 2014), and this explains why there is no ex-ante wage gap in industries with constant return to hours, and large ones in industries where working more increases productivity more than proportionately (Goldin, 2014)
Finally, differences in the mean can become magnified when one gets to the tails of the distributions.
Some other papers are scattered around twitter, and these include papers by the same Hyde that the previous article referred to in order to support the lack of difference hypothesis. See here . For the claim that personality differences between men and women are real see here.
In addition, occupational segregation by gender is stronger in egalitarian countries. This is a fatal blow to the sexism theory.
The second empirical puzzle—that occupational sex segregation tends to be stronger in economically developed, gender egalitarian countries than in less developed, more gender traditional countries—was not directly addressed by our study. However, our results suggest new ways of thinking about such cross-national findings. If other economically developed countries are similar to the United States, then occupational status has become an increasingly weak predictor of occupational sex segregation in these countries too, while occupations' people-things orientation has become an increasingly strong predictor. We hypothesize that as the restrictions of traditional gender roles weakened in economically developed nations in recent decades, women who possessed the requisite human capital increasingly pursued and entered high-status occupations. However, women were simultaneously freer to express their interests and values through their occupational choices, and one consequence may have been that women showed a marked preference for high-status jobs that were people-oriented rather than things-oriented. We hypothesize that, in contrast, many women (and men) in economically undeveloped countries do not have the luxury of pursuing work based on their interests but rather must accept whatever jobs are available, and this may have the effect of reducing some kinds of occupational sex segregation in these countries. (Lippa et al. 2014)
Or also here
The countries with the highest proportion of women in science are not the gender-egalitarian ones, but societies that one wouldn't say are the most woman friendly in the world like Iran or Saudi Arabia. But doesn't this also run counter to the evolutionary explanation? Not if there are other reasons that explain the gap. Genetic determinism (That genes determine everything) is not true. And indeed one can find reasons for that
There are a number of reasons why women outnumber men in higher education and why the ratio increases per capita income, which I do not have the space to discuss here. One specific reason, which explains why in Iran the value of higher education to women might decline as the ratio of men declines is that in universities, as the only co-ed institutions of education, women have an opportunity to meet men in an environment approved by their parents and the society at large, which most find a superior way to choose a spouse than through arranged marriages. Economists Chiappori, Iyigun and Weiss (2006) explain rigorously why marriage is an important reason for the higher ratio of women to men in universities. Now, if the proportion of men in universities were to drop too far, fewer Iranian women would be willing to spend four years learning skills that they do not intend to use in the labor market.
The computer science chart
Let's look at it again.
Let's do some fact checking. Here you can find the degrees in computer science by level and sex. Let's look at trends for bachelors, masters, and doctoral degrees. This is  what the data looks like,
By level of education,
Total numbers:
This is important: It shows that whatever happened in 1985 and 2003 was not something that affected only women (or men).
Other fields:
We can also rule out that there was a substitution effect between CS and any one given major. (Source)
Other countries, and pay attention to this one:
If you can't read Spanish, each line is a country. OECD average is in black, somewhere in the middle, and the Y-axis reads, from left to right: Education, Health & Welfare, Humanities & Arts, Life Sciences, Social sciences/Economics/Law (This should be probably broken down), Agriculture, Mathematics, Physics, Engineering, and Computation.
You can see that you have the same overall trends across a good bunch of OECD countries. It is not merely a US thing. Original source is here.
OECD data here.
This is how it looks like in Sweden, at the Bachelor level, by field, (Source)
That's 70.50% males in computing. The US, in comparison, has 82.2%. One could postulate that because there is a 10% point difference between Sweden and the US, that extra 10% is due to sexism. But that leaves unexplained 20% points. Not so fast, however. CS in the US leads to higher salaries, comparatively. And this may attract relatively more men.
So the fact that there are less women in CS holds across countries, and is not driven by greater gender equality, as we have seen with the Arab countries who lead in percentage of women in CS. Sweden does have more than the US, but still far less than the 50/50 split that one could expect if the differences are due to sexism. But it's not only computer science: a trend emerges across countries: the more social or health related the topic, the more women. Conversely, the more abstract and thing related, the more men.
Going back to out 1985 peak, some people at reddit adventure some explanations. One is the one at NPR, that computers were seen as a male thing. But this does not explain why male CS enrollment also fell. Another explanation is not that women stopped liking computers because they were a male thing, but men instead began liking computers more, as they came to be regarded as a thing to hack and tinker, not a boring office tool. Another possible explanation, advanced here is that men are more financially driven, and that they were attracted more than women to CS careers. This explanation aims to explain why there were two bubbles in the time series. The computers-are-for-boys thesis does not explain this. We knew there was a dotcom bubble in the early 2000s. But was there a bubble around 1985?
Not a financial one, no. But there were capacity contraints (Roberts, 2016). As more and more people enrolled into CS due to the boom in personal computing, the colleges found themselves without enough capacity to attend the growing demand. So they restricted the number of positions open for new students. Making the process more competitive (i.e. sampling further to the right in the distribution of skills) will get you relatively more men.
If one looks closely at the downturn of the 1980s, however, it quickly becomes clear that the reasons for the collapse in student enrollments had nothing at all to do with student interest. Student demand for computer science courses and degrees remained high throughout that period. Students in the mid 1980s did not decide against majoring in computer science but were instead prohibited from doing so by departments that lacked the resources to accommodate them.

I believe that what happened in the 1980s is best described as a capacity collapse in which universities and colleges were simply unable to satisfy the growing level of student demand. Departments tried a number of strategies to increase their teaching capacity, including retraining faculty from other disciplines and hiring adjunct faculty from industry. In the end, however, demand overwhelmed capacity, and colleges and universities were forced to restrict admission to the computer science major, which gave rise to the subsequent downturn. […]

(Quote from a 1981 report):

Pressures on faculty are intense. In the United States, Ph.D. Computer Science faculty have grown from 805 in 1975 to 837 in 1979—virtually no growth. The undergraduate student demand for Computer Science has risen at 15 percent to 20 percent annually during the same period. Thus overburdened, faculty cannot find adequate time to conduct research or to supervise graduate students in research. This atmosphere is a strong incentive for research-oriented faculty to seek positions in industrial research groups. Departments must find ways to give faculty more time for exploring new ideas with their graduate students while continuing to fulfill teaching commitments. Limiting or cutting back enrollments would be counterproductive given the societal need manifested in the rising enrollments. The only way in the long term to meet this need is to train, hire, and retain new faculty.

[…]

The response from academia:

Faced with the extraordinary challenge of finding faculty in a labor market in which the number of positions exceeded the number of applicants by as much as a factor of seven, universities and colleges were forced to adopt other strategies to build their teaching capacity. These strategies included • Increasing teaching loads and class sizes • Hiring more part-time and adjunct faculty • Retraining faculty from other disciplines • Limiting enrollments and access to the major

[…]

Even though institutions tried many strategies to expand their teaching capacity, they were eventually overrun by the relentless increase in student demand. Although the report from Snowbird 1980 had warned that "limiting or cutting back enrollments would be counterproductive given the societal need manifested in the rising enrollments," universities and colleges were forced to do just that. Most of those limitations were based on academic performance and were extremely restrictive. At Berkeley in the mid 1980s, for example, only students with a 4.0 GPA were admitted to the major in Electrical Engineering and Computer Science. During these years, I was chairing the newly formed Department of Computer Science at Wellesley College. Although we were more fortunate than many colleges in that we were able to attract a few applicants in response to our searches, making actual appointments remained a near impossibility. In 1982-83, Wellesley made six offers before finding someone who would take the position. Most of our candidates accepted competing offers elsewhere at higher salaries, both from industry and academia. Unfortunately, hiring one person in that year was insufficient to keep up with the increasing student interest in the computer science major. In 1983, Wellesley decided to restrict access to the major, accepting only students who met a minimum GPA threshold. Although limiting access to the major did reduce class sizes, it was not effective in meeting the more general goal of improving working conditions for the faculty. Enrollment limitations are, naturally enough, unpopular with students—and with their parents. Imposing such restrictions makes the relationship between faculty and students adversarial, causing students to become more competitive and, in many cases, angry. Teaching became considerably less enjoyable, and I ended up leaving Wellesley for a research lab.

The imposition of GPA thresholds and other strategies to reduce enrollment led naturally to a change in how students perceived computer science. In the 1970s, students were welcomed eagerly into this new and exciting field. Around 1984, everything changed. Instead of welcoming students, departments began trying to push them away. Students got that message and concluded that they weren't wanted. Over the next few years, the idea that computer science was competitive and unwelcoming became widespread and started to have an impact even at institutions that had not imposed limitations on the major
Conclusion
Women and men are different, both physically, intellectually, and in what they prefer. Is this sexism? This is no moral claim. This is as true as claiming that men are, on average, more violent, taller, and stronger than women. Is this sexism? If it is, reality is sexist and we have to live with it. But on a sensible definition of sexism, it isn't. Sexism would imply discouraging women from joining certain fields, regarding them as morally inferior, banning them from certain occupations. The tech-bro culture may count as this. But this does not seem to be the biggest driver of what we observe across countries, fields of study, and time: that men cluster in certain areas and women in others.
The evolutionary hypothesis holds: we do have strong sex based biases towards some fields. On top of this, we react to incentives (mediated, again, by differences in personality), and our behaviour is also culturally influences. We can have all three explanations at the same time. There isn't much literature in trying to assign weights to these parameters. We can rule out the 100% sexism thesis: Lippa et al. find that 40% of the variance in the gender between occupations is explained mostly by things vs people orientation. Another chunk be due to the coincidence that highly quantitative and things-oriented fields are well rewarded. In the United States (and the rest of the developed world) there is a correlation between percentage of male in that industry and how well rewarded it is.
To recap, the following facts need to be explained:
There are more men than women in quantitative fields
There are more men than women in highly paying jobs
There are more women than men in quantitative jobs in less gender equal countries  (See Saudi Arabia vs Sweden. But this effect may weaken at higher levels of income)
I have given evidence to support the claims that these facts can be explained by a baseline model of different cognitive skills and preferences between men and women. On top of that, economic incentives further skew the ratios. There is room for sexism. But the evidence above suggests that at best, if one takes a given country, waves a magic wand and makes everyone treat other equally, the picture wouldn't be radically different from what it looks now.
The discussion above says nothing about what ought to be done, if anything. If one desires a higher share of women in a given field, there are many ways of doing this. Mandating quotas of women is probably the most straightforward way. But I guess that what is generally desired is not equality for the sake of equality, but that people feel free to make choices about what to study, regardless of gender. Preferences are not hard-wired and immutable. I have shown that they are biased by nature, but they can be somewhat molded by culture. Somewhat. Making the US into Sweden may be feasible. What is highly unlikely, absent quasitotalitarian policies, is to bring gender ratios across the board to 50 +/- 10%.
There are arguments against the evidence above that one can hold to to keep thinking that it is actually sexism the underlying cause. If after reading this post you still think I am wrong, please let me know in the comments. I am interested in believing what is true. I may be wrong, I can remember many times I've been wrong in the past. But consider that you might also be.